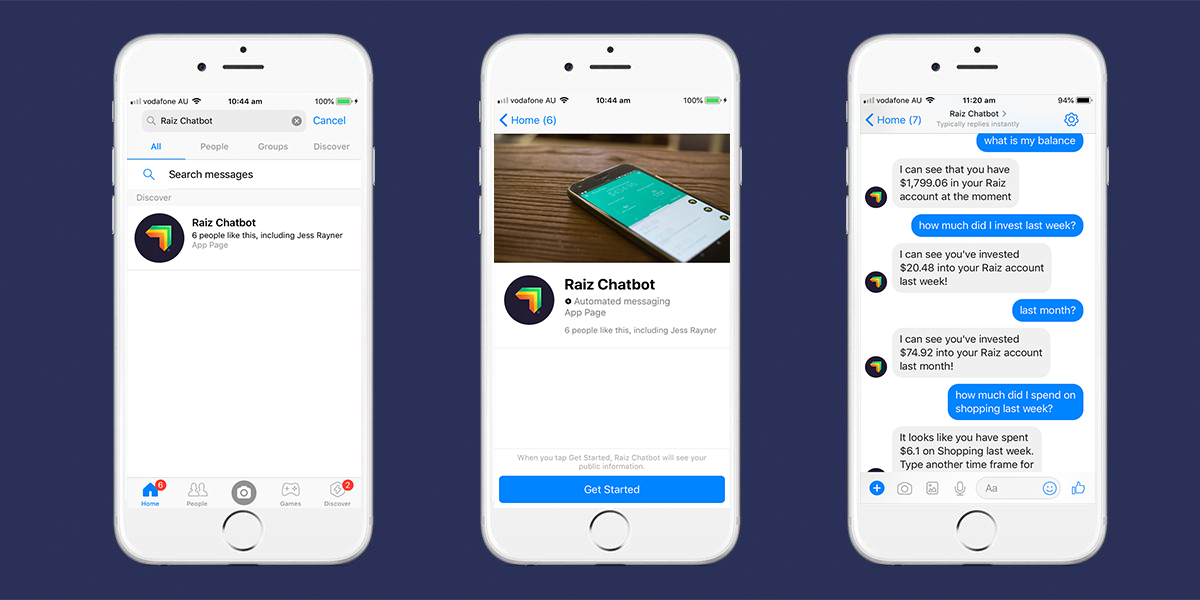 We are excited to announce a new feature – the Raiz Facebook Chatbot – Ashlee – to help you feel even more control of your finances!
Ashlee, the intelligent Chatbot, can answer both generic and specific questions relating to you such as "What is my balance?", "How much did I spend on shopping last week? last month?" or "Can I afford to go out tonight?"
Ashlee responds in real-time to questions specific to you, through Facebook messenger to your mobile phone. The more up to date your MyFinance is with categorised spends and linked accounts, the more accurate the responses from Ashlee will be.
To use, just go into your Facebook Messenger app and search for 'Raiz Chatbot'. Please note, you will need a Facebook Messenger account to access the Chatbot.
Below is a list of questions you can ask Ashlee, the Raiz Chatbot! Ashlee can answer both generic and specific questions relating to your Raiz account. Feel free to try ask her any other questions so we can continue improving her responses. For more information on Raiz fees, click here.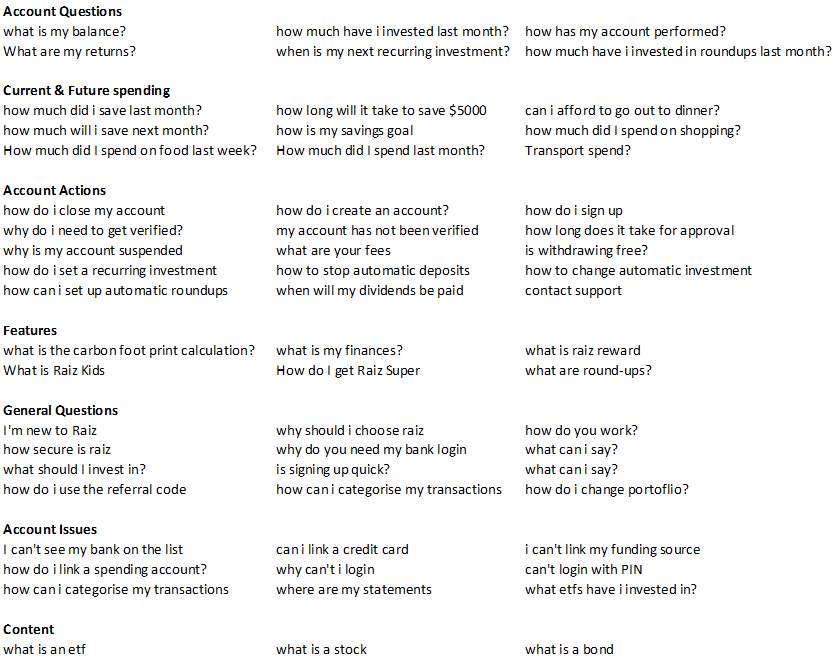 Below is a Video Demo on how to get started with Ashlee – the Raiz Chatbot:
Article Mentions
---
Don't have the Raiz App?
Download it for free in the App store or the Webapp below:

Important Information
The information on this website is general advice only. This means it does not take into account any person's particular investment objectives, financial situation or investment needs. If you are an investor, you should consult your licensed adviser before acting on any information contained in this article to fully understand the benefits and risk associated with the product.
A Product Disclosure Statement for Raiz Invest and/or Raiz Invest Super are available on the Raiz Invest website and App. A person must read and consider the Product Disclosure Statement in deciding whether, or not, to acquire and continue to hold interests in the product. The risks of investing in this product are fully set out in the Product Disclosure Statement and include the risks that would ordinarily apply to investing.
The information may be based on assumptions or market conditions which change without notice. This could impact the accuracy of the information.
Under no circumstances is the information to be used by, or presented to, a person for the purposes of deciding about investing in Raiz Invest or Raiz Invest Super.
Past return performance of the Raiz products should not be relied on for making a decision to invest in a Raiz product and is not a good predictor of future performance.