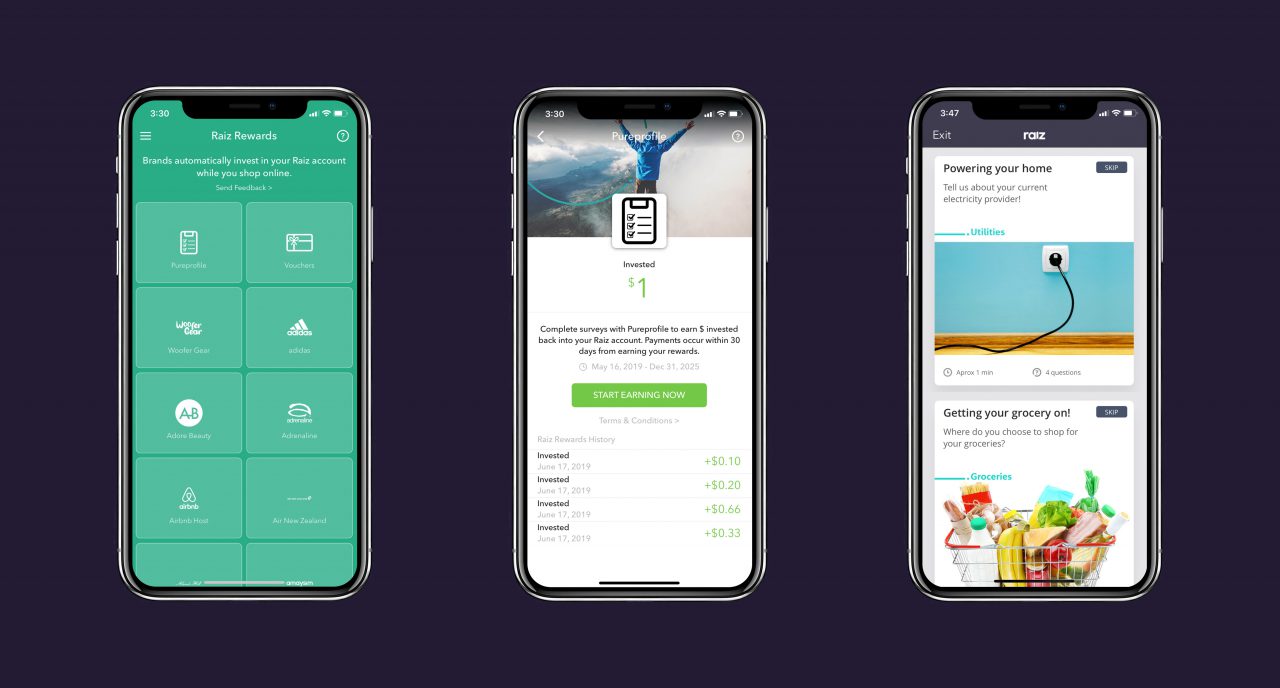 Answer surveys = cash invested in you
You can now choose to earn extra money with the data you want to share. We've partnered with Pureprofile so you can earn cash rewards by completing surveys within the Raiz app in your spare time!
Go to the Raiz Rewards section in the app and tap on the 'Pureprofile' tile (It's right at the top of the list so it's easy to find). This is currently only available on the mobile app so please make sure you have the latest version of the Raiz App installed.
Once you have clicked through the Pureprofile tile, tap 'Start Earning Now'.
You'll need to answer a few initial questions about yourself, then you'll be taken to available surveys to answer. Once a survey is completed successfully, the reward will be invested into your Raiz account within 30 days. Reward amounts are stated before you complete the survey. Please note some surveys may be unpaid.
Please refer to full Terms & Conditions here.
We are always striving to bring you innovative ways to invest small amounts regularly! For more information on Raiz fees, click here.
---
Don't have the Raiz App?
Download it for free in the App store or the Webapp below:
The information on this website is general advice only. This means it does not take into account any person's particular investment objectives, financial situation or investment needs. If you are an investor, you should consult your licensed adviser before acting on any information contained in this article to fully understand the benefits and risk associated with the product.
A Product Disclosure Statement for Raiz Invest and/or Raiz Invest Super are available on the Raiz Invest website and App. A person must read and consider the Product Disclosure Statement in deciding whether, or not, to acquire and continue to hold interests in the product. The risks of investing in this product are fully set out in the Product Disclosure Statement and include the risks that would ordinarily apply to investing.
The information may be based on assumptions or market conditions which change without notice. This could impact the accuracy of the information.
Under no circumstances is the information to be used by, or presented to, a person for the purposes of deciding about investing in Raiz Invest or Raiz Invest Super.
Past return performance of the Raiz products should not be relied on for making a decision to invest in a Raiz product and is not a good predictor of future performance.