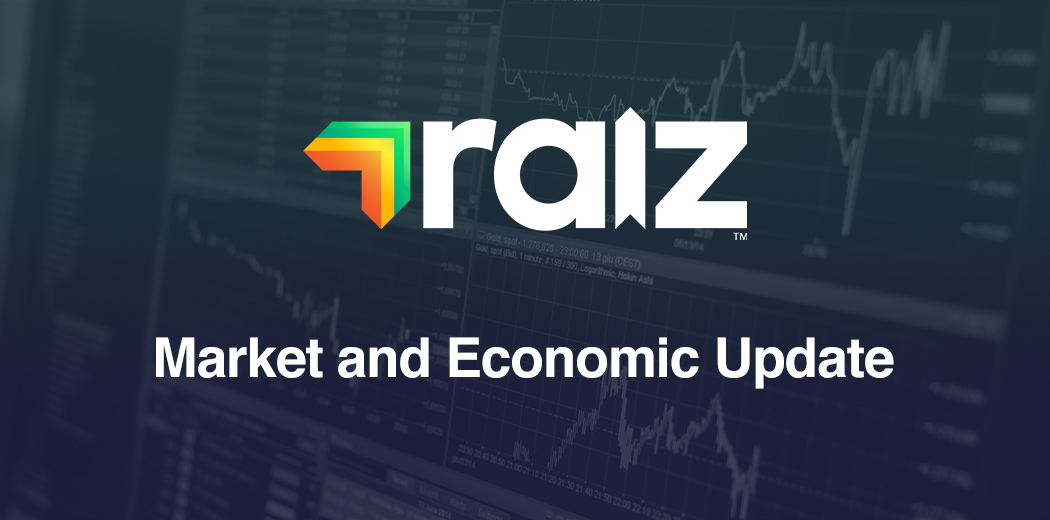 16-10-19
From George Lucas, Raiz CEO
Downbeat earnings outlook for US stocks
In the US, Q3 earnings season kick offs in earnest and stocks are bracing for a third straight quarter of falling earnings, which would make it the longest streak in more than three years. S&P 500 companies are expected to report around a 4.1 per cent fall in earnings per share, following a 0.4 per cent drop in the second quarter and a 0.3 per cent dip in Q1.
It's not uncommon for expectations going into earning seasons to be underestimated — so it's possible that the current 4.1 per cent expectation could be beaten. Drivers for the drop in profits include rising labour costs and input costs as well as the rising US dollar, which serves to cut earnings as 40 per cent of S&P 500 companies' sales come from overseas.
Energy and tech sectors are expected to be worst hit. Still, you wouldn't know the dim outlook is around the corner from looking at the market right now. The S&P 500 stock index has remained near record highs since hitting an all-time high in July, supported by falling interest rates and hopes that peace could be brokered in the global trade war.
US consumer sentiment at three-month high
On a more upbeat note, this week saw the University of Michigan measure of consumer confidence rebound, with the survey hitting a three-month high of 96.0 for October. This bodes well for consumption growth and indicates that US consumers are not stretched at the moment.
On the political side, investors will be closely watching US impeachment proceedings, with polls showing support for impeaching US President Donald Trump rising above 50 per cent. The complaint against Trump centres on a phone call with Ukrainian counterpart Volodymyr Zelensky in which Trump is said to have asked for help investigating former Vice President Joe Biden.
There's also the ongoing US-China trade stoush. Current talks have resulted in a "mini deal", with China agreeing not to manipulate its currency and to buy more US agricultural goods. In return, the US would delay additional tariffs and ease restrictions on Chinese firms. While this appears a positive step, previous impermanent truces suggest that this one too may be unlikely to last long.
No breakthrough in Brexit
Across the Atlantic, the chances of UK Prime Minister Boris Johnson getting a Brexit deal before the EU summit on 17 October have risen.
However, a "no-deal" Brexit at the end of October can't be ruled out, but appears more unlikely given the "Benn Act" now legally obliges the Government to request a delay in such a scenario.
Aus unemployment tipped to remain steady
In Australia, this week we have the monthly unemployment report which is expected to show that the jobless rate stayed at 5.3 per cent in September.
Elsewhere, oil prices were on the rise again through the week following reports that an explosion set fire to an Iran-owned tanker near Saudi Arabia's port city of Jeddah and caused an oil spill.
__________________
Important Note: The information on this website is provided for the use of licensed financial advisers only. The information is general advice and does not take into account any person's particular investment objectives, financial situation or investment needs. If you are an investor, you should consult your licensed adviser before acting on any information contained in this website.
Investors only: The information in this Document is confidential it must not be reproduced, distributed or disclosed to any other person unless it is part of their statement of advice. The information may be based on assumptions or market conditions and may change without notice. This may impact the accuracy of the information. In no circumstances is the information in this Document to be used by, or presented to, a person for the purposes of making a decision about a financial product or class of products.
General advice warning: The information contained in this Document is general information only. It has been prepared without taking account any potential investors' financial situation, objectives or needs and the appropriateness of this information needs to be considered in that context. No responsibility or liability is accepted by Instreet or any third party who has contributed to this Document for any of the information contained herein or for any action taken by you or any of your officers, employees, agents or associates.