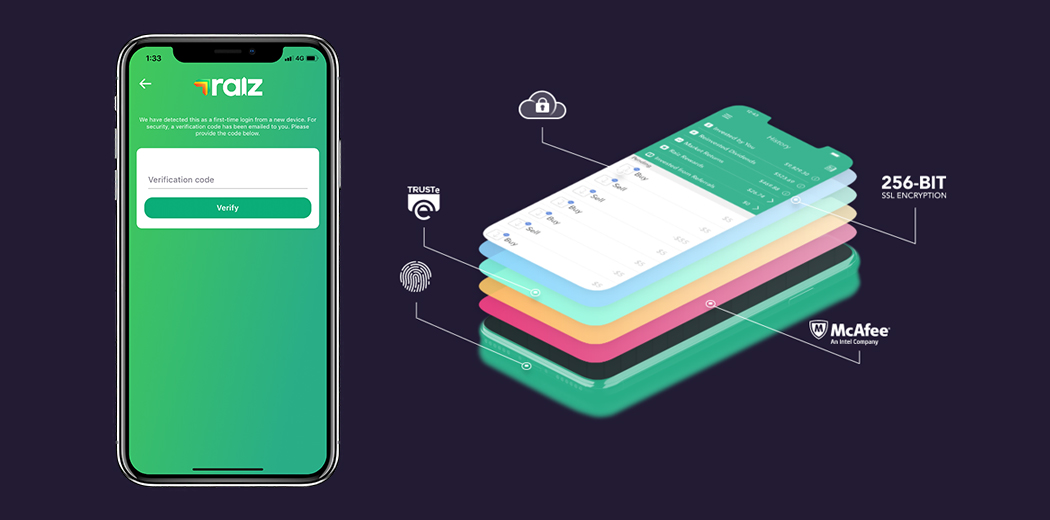 If you've recently logged into your Raiz account from a new phone or computer, you may have been confused by a screen asking for verification. This is due to our recent implementation of multifactor authentication (MFA), a feature we have added to further improve the security of your Raiz account.
How does it work?
When you log in to your Raiz account from a new device for the first time (new phone, laptop etc.), you will be prompted to enter a 6-digit verification code into the app before being able to access your account.
This verification code will be sent to the email that is linked to your Raiz account – look for an email in your inbox titled 'Your device confirmation code'. Simply copy and paste the code from the email into your Raiz app, and you'll be able to access your account.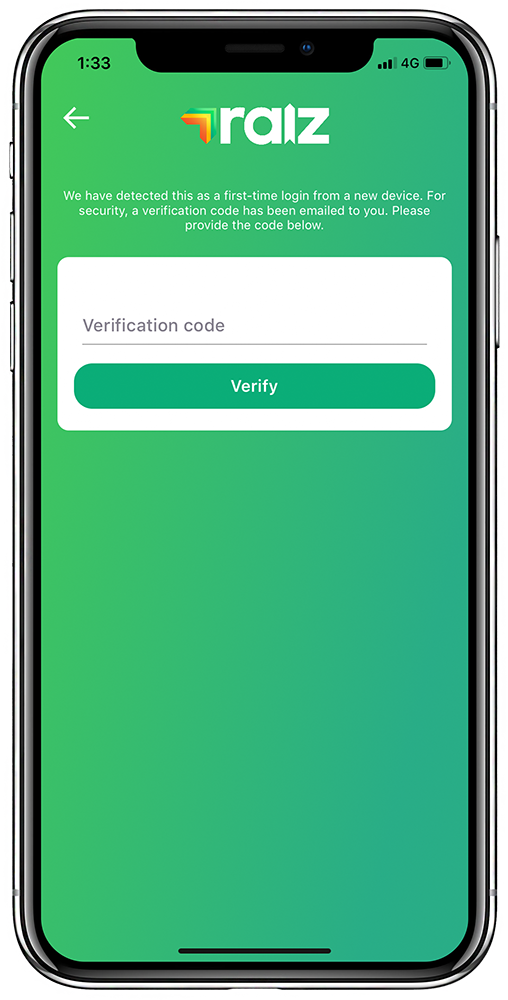 How does MFA improve security?
MFA adds an extra layer of security by making it more difficult for an unauthorised person to access your Raiz account. MFA means that if your Raiz log in details are compromised, the attacker will still have to have access to your email to successfully log into your Raiz account.
For example, If an unknown third party was to steal your password or attempt to break into your account by guessing your log in credentials, MFA would prevent them from accessing your account, provided they don't have access to your inbox email registered with Raiz.
At Raiz, your security is our highest priority, and we are always working hard to further improve upon our current systems. If you'd like to learn more, please check out our Raiz security page.
---
Don't have the Raiz App?
Download it for free in the App store or the Webapp below:
___________________
Important Information
The information on this website is general advice only. This means it does not take into account any person's particular investment objectives, financial situation or investment needs. If you are an investor, you should consult your licensed adviser before acting on any information contained in this article to fully understand the benefits and risk associated with the product.
A Product Disclosure Statement for Raiz Invest and/or Raiz Invest Super are available on the Raiz Invest website and App. A person must read and consider the Product Disclosure Statement in deciding whether, or not, to acquire and continue to hold interests in the product. The risks of investing in this product are fully set out in the Product Disclosure Statement and include the risks that would ordinarily apply to investing.
The information may be based on assumptions or market conditions which change without notice. This could impact the accuracy of the information.
Under no circumstances is the information to be used by, or presented to, a person for the purposes of deciding about investing in Raiz Invest or Raiz Invest Super.
Past return performance of the Raiz products should not be relied on for making a decision to invest in a Raiz product and is not a good predictor of future performance.