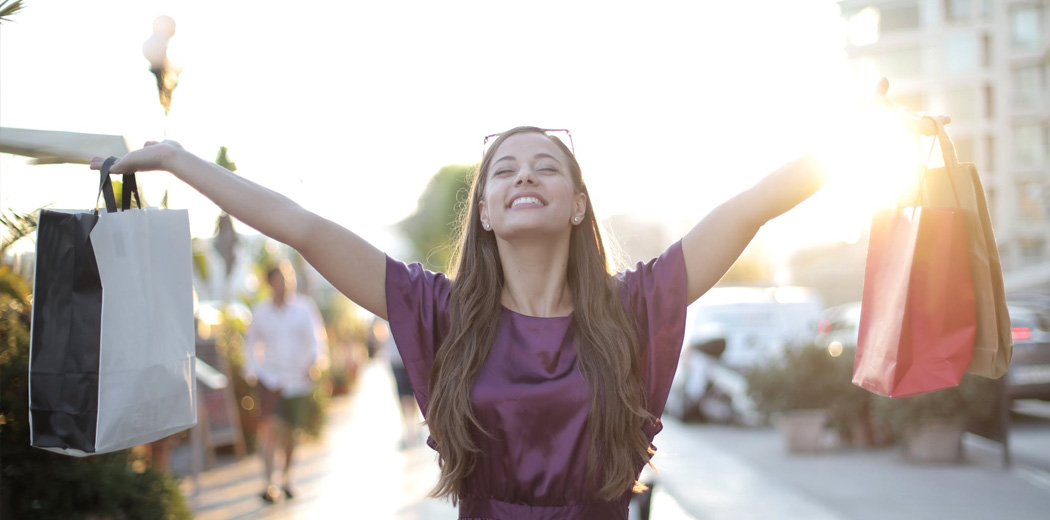 The majority of us have scrolled online for hours trying to find that perfect item or jumped from store to store to find the best deals. Shopping can be fun, but the problem is that it can take a toll on the budget (especially for non-essentials) and interferes with our ability to save for the future.
The good news is that you can turn your love of shopping into a way of investing for the future with Raiz Rewards – an easy way to save while you spend. For more information on Raiz fees, click here.
So, if you're a shopaholic like some of us here at Raiz HQ, then you should keep on reading to discover how you can make the most of your spending power next time you shop.
So, what is Raiz Rewards?
Raiz Rewards is our loyalty program. Each time you shop with your favourite brands through Raiz Rewards, you will earn a cash reward direct from the brand invested back into your Raiz or Raiz Invest Super account.
The amount varies depending on the partner and is typically a % of the purchase price, or sometimes a fixed dollar amount.
Is it just for online purchases or can I shop in-store as well?
We have over 200 every day and luxury brands available online, and a growing number of participating retail partners who pay Raiz Rewards when you shop at their physical stores in Australia.
How do I get the partnered brands to invest in me?
To shop online, from within your Raiz App, click on Rewards, select the brand you'd like to purchase from, click the 'Shop Now' link and make your purchase immediately. By clicking on the link, the brands can automatically track your purchase and invest the reward into your Raiz or Raiz Invest Super account.
To shop in-store, you need to activate the in-store offer within Raiz Rewards before you make a purchase at one of the brand's Australian stores. Each in-store brand has a start and end date for their offer, you only need to activate the offer once during those dates and any purchases made on your linked spending card will be eligible.
Regardless of whether you are shopping online or in-store, each partner has their own Terms & Conditions so remember to check them first to make sure your purchase is eligible for rewards.
How do I choose where my Raiz Rewards gets paid?
By default, Raiz Rewards will be paid into your Raiz account.
If you have an active Raiz Invest Super account with us, you can choose to have Raiz Rewards paid directly into it, and benefit from additional contributions to grow your retirement savings even more. You can activate this option by clicking on Super > Reward Contribution from within the Raiz App.
Keep in mind that when Raiz Rewards is paid into your Raiz Invest Super account they will be classed as voluntary contributions, and you will not be able to withdraw them until you reach preservation age.
Your Raiz rewards are only invested into the account you choose. You can switch between your Raiz rewards being invested into your regular or Raiz super account whenever you like.
How can I pay for my purchases?
For most Raiz Rewards brand partners, if you shop through the links in the Raiz Rewards section of the app, you can normally pay with any card. However, please check the Terms & Conditions for each partner as some may require you to pay with a card attached to one of your linked spending accounts in Raiz. Some partners also specifically exclude purchases made using Buy Now / Pay Later methods even though they may offer them as a payment option during checkout.
For in-store rewards, purchases must be paid for with a card that is attached to one of your linked spending accounts in Raiz, or alternatively you can use your Raiz x bundll card!
When will I get the reward investment?
Raiz Rewards take a little while to appear in your Raiz or Raiz Invest Super account depending on the type of purchase you have made and the partner you shopped with.
The time it takes for each partner to track and reconcile your purchase is shown on the partners Terms and Conditions, but generally the expected payment periods are as follows:
Most of our partners pay within 30 Days
Surveys are normally paid within 45 days from completion of the survey
Travel partners pay within 30 days of the date of the last checkout/trip on the booking
Energy partners pay within 30 days after your cooling off period (the cool off period is 60 days from date of sign-up)
In-store partners pay within 90 days of purchase
Raiz Rewards top tips for success
Cookies and cross site tracking must be enabled on your browser prior to shopping
All ad blocking software must be disabled prior to shopping
Compatible browsers are Chrome, Safari and Firefox. Other browsers may not track
You must click on the partner store from within Raiz Rewards for the purchase to track
Complete your transaction within 2 hours of clicking on the partners store from within Raiz Rewards
Do not visit other websites after clicking on the partners store from within Raiz Rewards
For each new purchase, return to Raiz Rewards and click on the partners store from within Raiz Rewards again
Always read the partner specific Terms and Conditions to ensure your purchase is eligible
Your purchase may not be eligible for Raiz Rewards if:
You have not followed the tips above
A gift card was used as payment method, or a gift card was purchased in the transaction
A coupon / promo code (other than those shown on Raiz Rewards) was entered at checkout
An order is cancelled, changed after checkout, finalised or amended over the phone, or any items in an order are returned / exchanged
Fraudulent activity is detected
---
Don't have the Raiz App?
Download it for free in the App store or the Webapp below:
Important Information
The information on this website is general advice only. This means it does not take into account any person's particular investment objectives, financial situation or investment needs. If you are an investor, you should consult your licensed adviser before acting on any information contained in this article to fully understand the benefits and risk associated with the product.
A Product Disclosure Statement for Raiz Invest and/or Raiz Invest Super are available on the Raiz Invest website and App. A person must read and consider the Product Disclosure Statement in deciding whether, or not, to acquire and continue to hold interests in the product. The risks of investing in this product are fully set out in the Product Disclosure Statement and include the risks that would ordinarily apply to investing.
The information may be based on assumptions or market conditions which change without notice. This could impact the accuracy of the information.
Under no circumstances is the information to be used by, or presented to, a person for the purposes of deciding about investing in Raiz Invest or Raiz Invest Super.
Past return performance of the Raiz products should not be relied on for making a decision to invest in a Raiz product and is not a good predictor of future performance.