Raiz is a micro-investing app that works by allowing you to start investing with as little as $5. Users can invest into their Raiz account through round ups, recurring investments, and lump sum deposits.
Money in your Raiz Investment Account is invested into a mix of exchange traded funds (ETFs) in accordance with one of six different Portfolios selected by you. Raiz provides Australians access to start early, invest often and reach their financial goals.
With Raiz, saving and investing is easier than ever before.
First, connect a bank account to your Raiz account. This is where all deposits and withdrawals to and from your Raiz account will come and go.
Next, you'll need to choose a Raiz investment portfolio. The portfolio's are 'Conservative', 'Moderately Conservative', 'Moderate', 'Moderately Aggressive', 'Aggressive' and 'Emerald'. The offering of portfolio's are designed to suit the differing investment goals of investors, in terms of acceptable level of risk and planned time in the market (see our PDS for more info).
For example, an aggressive portfolio may suit you if you want higher returns in the longer term, but will accept a high risk of losing capital over the medium term.
Read more: Which Raiz portfolio could be right for me?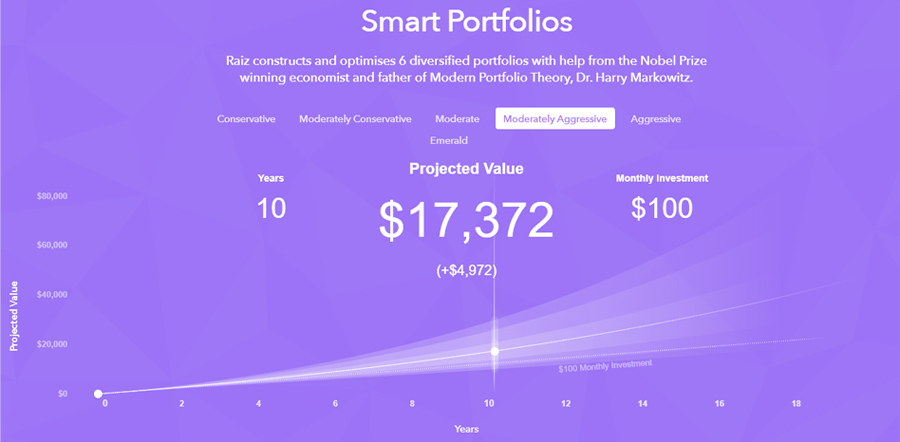 Then, set up your spending accounts in Round-Ups. Raiz can track credit cards, debit cards and other bank accounts and will round up every purchase to the nearest dollar and keep track of this amount. When your round-ups hit your round-up threshold, we'll withdraw it from your bank account and invest it for you.
Your new shares will then appear in your Raiz account, where you can watch them potentially grow over time.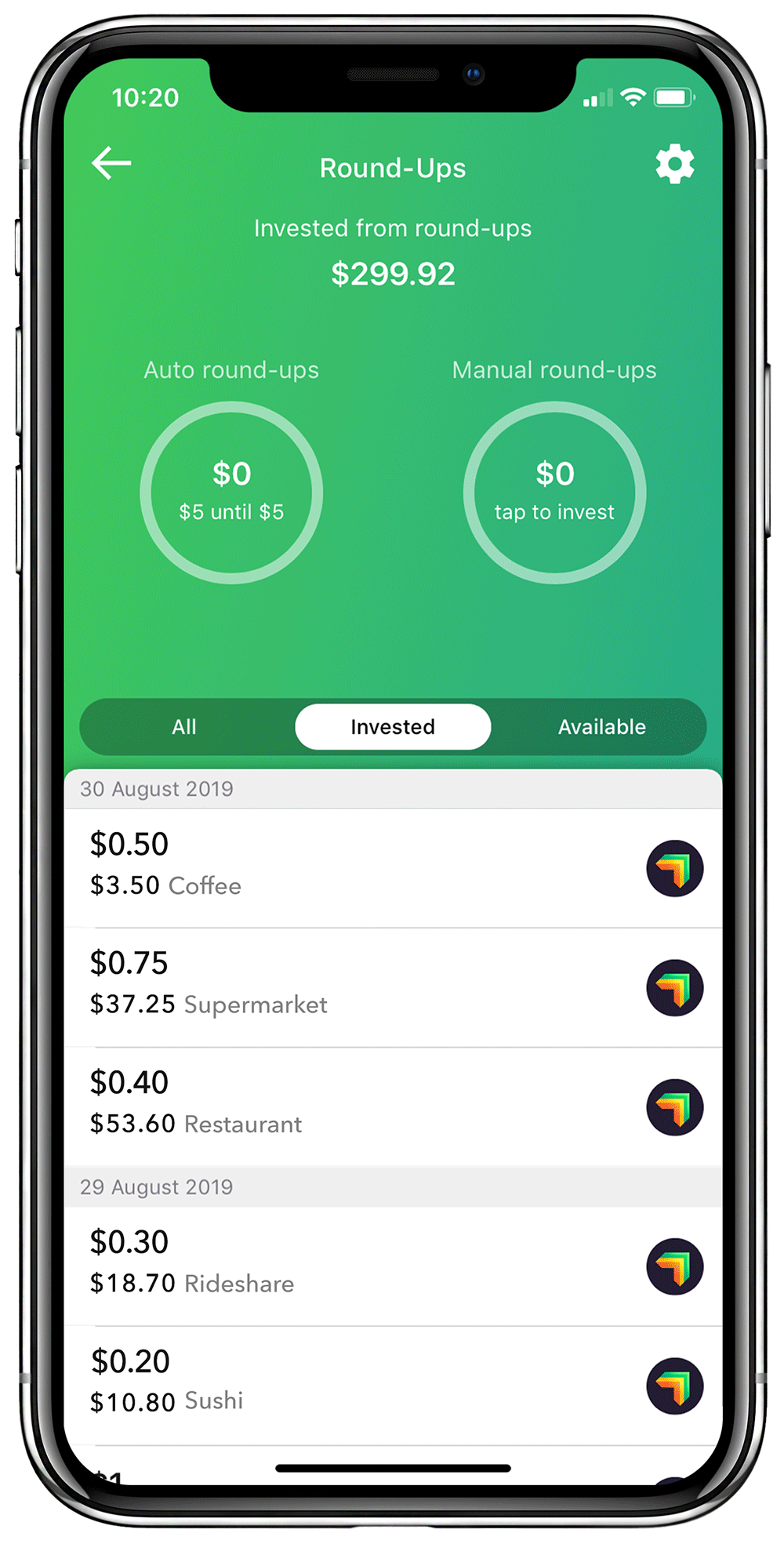 You can also set up a Recurring Investment plan or Savings Goal to help your account grow even faster.
If you have spare cash you can always invest into your Raiz Account at anytime using a Lump Sum investment.
Feel confident in saving more and investing with Raiz.
For more information on Raiz fees, click here.
---
Don't have the Raiz App?
Download it for free in the App store or the Webapp below:

Important Information
The information on this website is general advice only. This means it does not take into account any person's particular investment objectives, financial situation or investment needs. If you are an investor, you should consult your licensed adviser before acting on any information contained in this article to fully understand the benefits and risk associated with the product.
A Product Disclosure Statement for Raiz Invest and/or Raiz Invest Super are available on the Raiz Invest website and App. A person must read and consider the Product Disclosure Statement in deciding whether, or not, to acquire and continue to hold interests in the product. The risks of investing in this product are fully set out in the Product Disclosure Statement and include the risks that would ordinarily apply to investing.
The information may be based on assumptions or market conditions which change without notice. This could impact the accuracy of the information.
Under no circumstances is the information to be used by, or presented to, a person for the purposes of deciding about investing in Raiz Invest or Raiz Invest Super.
Past return performance of the Raiz products should not be relied on for making a decision to invest in a Raiz product and is not a good predictor of future performance.