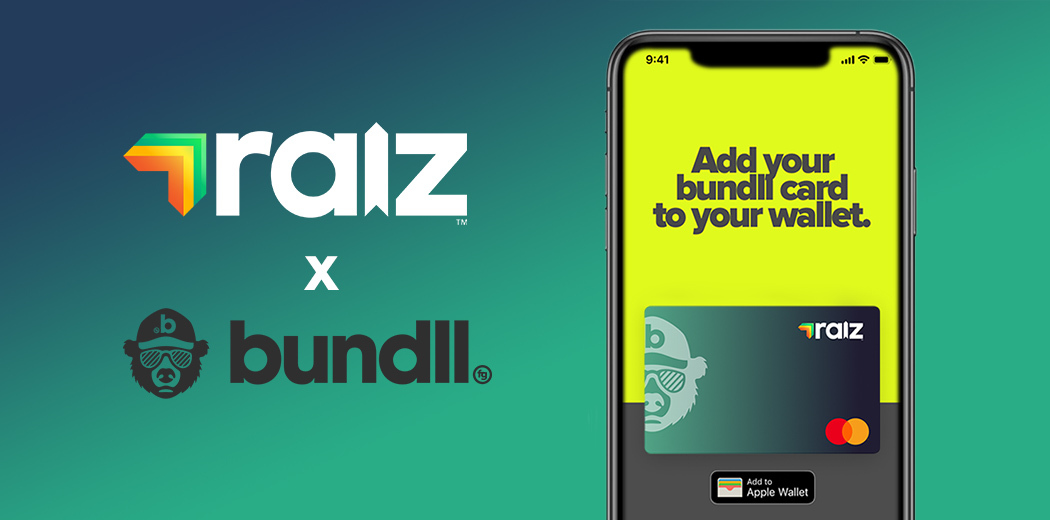 At Raiz, we're committed to helping our customers take control of their finances by making money management as easy, affordable, and intuitive as possible.
That's why Raiz has partnered with bundll to create the new Raiz x bundll digital Mastercard for our customers. It provides flexibility, convenience, and budgeting power over how and when you pay for purchases.
What is bundll?
bundll is an instantly issued digital Mastercard for your mobile phone that lets you make multiple purchases of up to your bundll limit at any store where Mastercard transactions are available, with the digital bundll Mastercard linked to your digital wallets, including Apple Pay or Google Pay.
The way bundll works is that each week purchases made via bundll over the previous 7 days are aggregated, or 'bundled up' into one, with users having up to a fortnight available to you to pay that 'bundll' off.  There is no interest charged, like a credit card, on your outstanding bundll balance.
How is a Raiz x bundll card different to a regular bundll card?
Raiz's unique partnership with bundll makes it super easy for Raiz users to access and enjoy the benefits that bundll has to offer, with the added flexibility of using Raiz as a funding source. That's because Raiz users can securely and quickly apply for bundll using their existing Raiz account information and link their accounts.
If your Raiz initiated application is approved, you will be issued with a co-branded Raiz x bundll digital card, which will then be available to use in either Google Pay or Apple Pay on your mobile phone. It takes just one tap to add it to your digital wallet.
Who's eligible for a Raiz x bundll card?
If you see a Raiz bundll link in your Raiz app then you have been invited to apply. The process is simple, just follow the prompts within your Raiz app to download the bundll app, then go through the quick pre-filled application.
Once you have a Raiz x bundll card, you'll be given a maximum spending limit on your digital bundll Mastercard. Your spending limit depends on the individual background information you provide as part of the sign-up process.
What are some ways I can use the Raiz x bundll card?
With Raiz x bundll, you have the option to use your Raiz account to pay for everyday spend, like groceries or petrol, in-store or online, and then have a fortnight to repay the amount interest-free.
It's super easy to use online or in-store. When shopping, your Raiz x bundll card is used just like in the same way as any other card. Simply open the digital wallet on your mobile phone, swipe to reveal your Raiz x bundll card and simply tap your phone to pay or enter your card details.
Raiz x bundll also gives you flexibility when it comes to budgeting for everyday items. There is no interest charged on your outstanding bundll balance but with a Raiz x bundll account, you can take advantage of bundll's 'snooze' feature that allows you to delay payments for an extra fortnight for a $5 fee.
There are plenty of opportunities to be creative with how you spend and budget with the Raiz x bundll card. We'll keep you informed of bundll card hacks and clever ways to use your card here on the Raiz blog. Watch this space!
---
Don't have the Raiz App?
Download it for free in the App store or the Webapp below:
Important Information
The information on this website is general advice only. This means it does not take into account any person's particular investment objectives, financial situation or investment needs. If you are an investor, you should consult your licensed adviser before acting on any information contained in this article to fully understand the benefits and risk associated with the product.
A Product Disclosure Statement for Raiz Invest and/or Raiz Invest Super are available on the Raiz Invest website and App. A person must read and consider the Product Disclosure Statement in deciding whether, or not, to acquire and continue to hold interests in the product. The risks of investing in this product are fully set out in the Product Disclosure Statement and include the risks that would ordinarily apply to investing.
The information may be based on assumptions or market conditions which change without notice. This could impact the accuracy of the information.
Under no circumstances is the information to be used by, or presented to, a person for the purposes of deciding about investing in Raiz Invest or Raiz Invest Super.
Past return performance of the Raiz products should not be relied on for making a decision to invest in a Raiz product and is not a good predictor of future performance.
The bundll product is provided by FlexiCards Australia Pty Ltd ABN 31 099 651 877 Australian credit licence number 247415. Bundll, snooze and superbundll are trademarks of Flexirent Capital Pty Ltd, a subsidiary of FlexiGroup Limited.
Mastercard is a registered trademark and the circles design is a trademark of Mastercard International Incorporated.