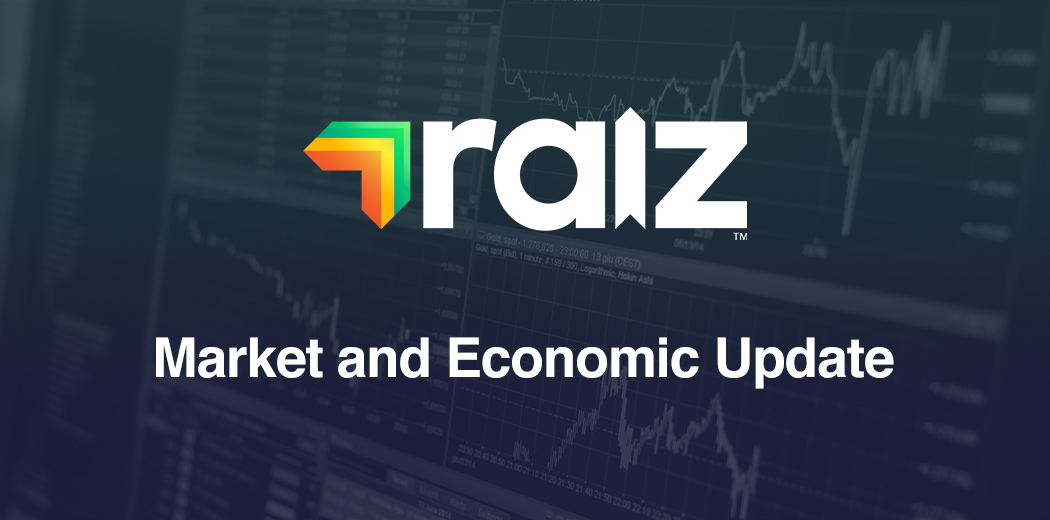 14/01/20
From George Lucas, Raiz CEO 
Markets react to US-Iran tensions
There has been significant market drama to begin the new year, including hefty swings in oil and havens such as gold, largely on the back of escalating tensions between Iran and the US.
For instance, in the wake of Iran's recent missile strikes on US forces in Iraq, Brent crude posted a peak-to-trough drop of almost 9 per cent, sending crude back to near $65 a barrel.
However, for investors, despite the recent rising US-Iran tensions initially sparked by the killing of Iranian commander Qasem Soleimani, it remains important to focus on long-term strategy.
Lessons from the US-China trade war
The ongoing US-China trade war is a case in point here. Over the past 18 months, while the US and China have played out a protracted trade war, there have been regular bouts of weakness in equity and bond markets. Buying in these dips has been rewarding.
We must also acknowledge the crucial role played by very supportive central banks against a backdrop of low government bond yields and interest rates at present. In such an environment, with interest rates so low, if you sell out of equities it can be difficult to decide where to put your money.
This context also applies to the current geopolitical stoush between the US and Iran. In short, asset allocation committees need to be convinced that a pullback in equities is a longer-term correction given the limited upside from holding expensive bonds that provide meagre fixed rates of interest.
It should also be noted that, in practice, the risk that Iran attacks oil shipments in the Strait of Hormuz is low given that China — one of the few friends Tehran has — derives nearly half of its crude imports from the region.
Indeed, according to Bloomberg, less than 5 percent of the 16.5 million barrels a day of crude and condensate oil that flowed through Hormuz last year went to US refineries, making Iranian action there as a move against the US of little utility.
US Federal Reserve's balance sheet expands
In other news, the US Fed has started to expand its balance sheet once more, with its most recent monetary stimulus spree taking its balance sheet close to its all-time high of $4.5 trillion. This has caused recent weakness in the US dollar and has been boosting prices of US equities.
The weakness of the US dollar will be closely watched by the RBA here and increases the likelihood of a cut in official interest rates here in Australia.
Finally, 2020 is an election year in the US. Given this, the last thing US President Donald Trump will want is protracted volatility in oil prices that dents consumer and business confidence.
____________________
Important Note: The information on this website is provided for the use of licensed financial advisers only. The information is general advice and does not take into account any person's particular investment objectives, financial situation or investment needs. If you are an investor, you should consult your licensed adviser before acting on any information contained in this website.
Investors only: The information in this Document is confidential it must not be reproduced, distributed or disclosed to any other person unless it is part of their statement of advice. The information may be based on assumptions or market conditions and may change without notice. This may impact the accuracy of the information. In no circumstances is the information in this Document to be used by, or presented to, a person for the purposes of making a decision about a financial product or class of products.
General advice warning: The information contained in this Document is general information only. It has been prepared without taking account any potential investors' financial situation, objectives or needs and the appropriateness of this information needs to be considered in that context. No responsibility or liability is accepted by Instreet or any third party who has contributed to this Document for any of the information contained herein or for any action taken by you or any of your officers, employees, agents or associates.