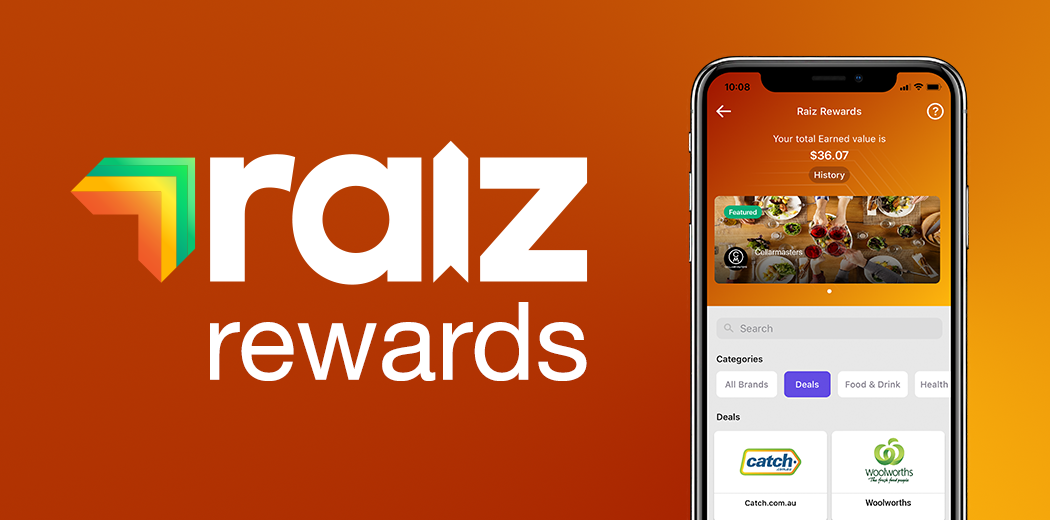 Raiz Rewards has come a long way since launching in 2017! We've now got over 200+ partners across a range of categories including food, fashion, travel, home and more. So that you can stay up to date with news, stories and advice from your favourite partnered brands we've launched the Raiz Rewards blog.
Our goal is to continue to deliver exciting content about the brands that are investing in your future. Get tips and tricks on how to get the most bang for buck and never miss any of the latest news on Raiz Rewards.
What is Raiz Rewards?
Raiz Rewards is our rewards program that sits within the Raiz app. For online sales simply click the link in the Raiz app or for in-store purchases click to activate then purchase on your linked card. When you do make a purchase with one of our partnered brands, you'll earn a percentage of your purchase or flat dollar amount re-invested back into you Raiz account or Raiz Super Account.
Innovated from a cash-back model, we instead give our customers a 'cash-forward' as the cash is used to buy shares. With brands like eBay, Dan Murphy's, THE ICONIC, Booking.com, Best&Less and more! There is something for everyone.
What is the Raiz Rewards Blog?
The Raiz Rewards blog sits separate from the Raiz Invest blog to bring you interesting articles about the rewards program and the brands promoted in it. From product launches, current sales or updates or even life advice, we'll make sure you're always on top of the most recent news our partners have to share. Check out some of them now:
How can I be updated with the latest blogs?
Like our Raiz Rewards Facebook page to keep up to date on all of the latest blogs and any Raiz Rewards news.
Check out the Raiz Rewards blog at www.raizrewards.com.au
---
Don't have the Raiz App?
Download it for free in the App store or the Webapp below:
Important Information
The information on this website is general advice only. This means it does not take into account any person's particular investment objectives, financial situation or investment needs. If you are an investor, you should consult your licensed adviser before acting on any information contained in this article to fully understand the benefits and risk associated with the Raiz product.
The information in this website is confidential. It must not be reproduced, distributed or disclosed to any other person. The information is based on assumptions or market conditions which change without notice. This will impact the accuracy of the information.
Under no circumstances is the information to be used by, or presented to, a person for the purposes of deciding about investing in Raiz.