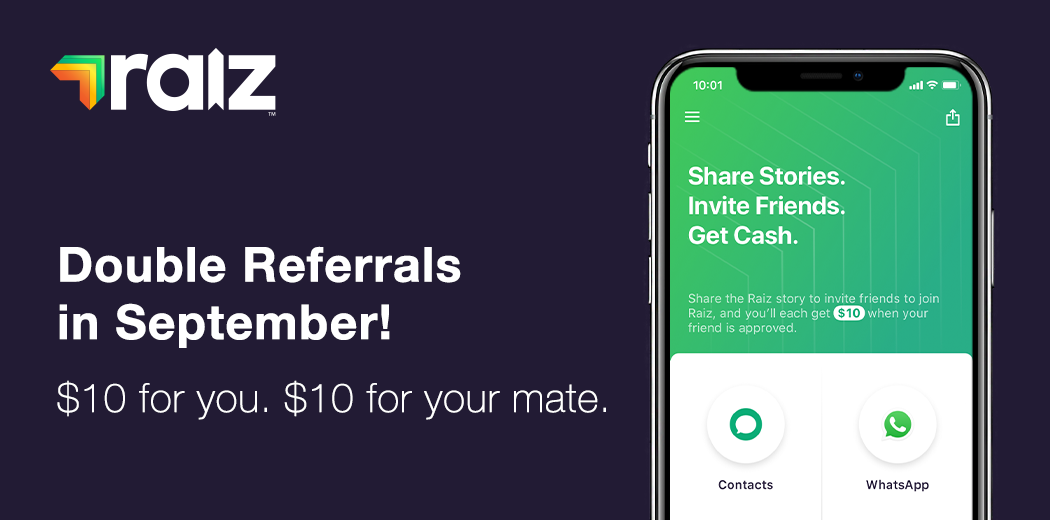 For the entire month of September we are doubling the referral bonus you and your friends can earn! That's $10 for you and $10 for your friend. 
As a Raiz investor, you have already begun your investment journey. You have experienced how simply putting aside the spare change from your purchases, or investing a little extra each week, fortnight or month can bring you a step closer to financial freedom. Why not share this experience with your family and friends?
Here's how simple it is:
Step 1: Tap on the menu icon in the top left of the Welcome screen and select 'Invite your friends'.
Step 2: Share with your contacts or post your referral link to your favourite social media channels!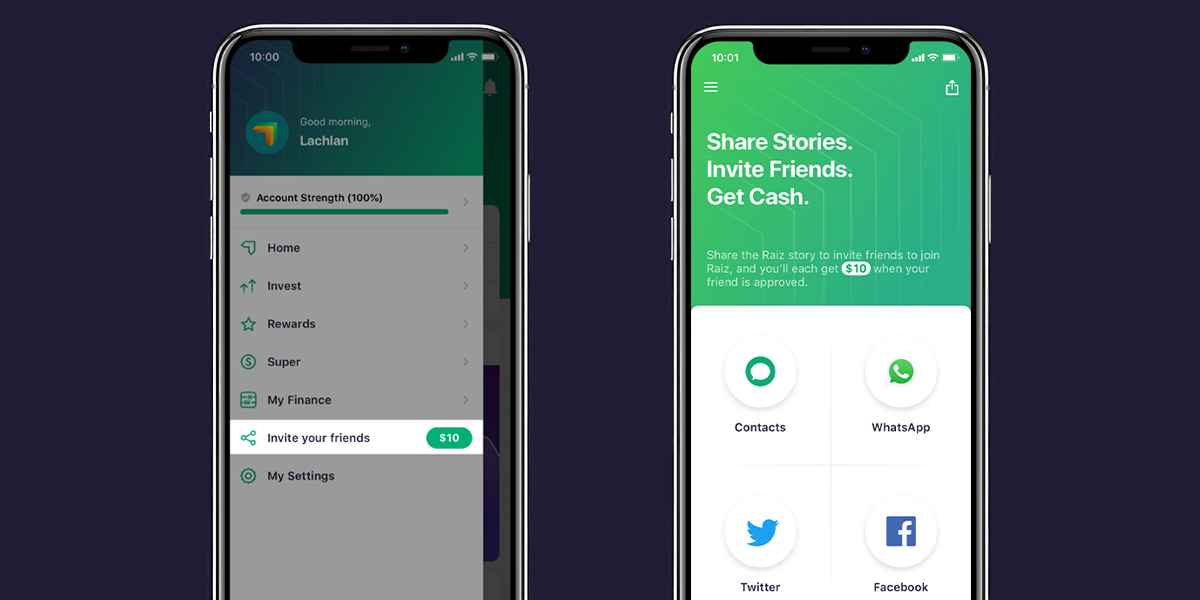 If you access your Raiz account via web browser instead of the app, you will find the same options available in the menu on the left-hand side of the screen!
What happens after I refer my friends?
Your friends will receive your unique referral link which will look something like this:
http://app.raizinvest.com.au/invite/ABCDEF
Your friends should use that unique referral link to begin creating their Raiz account.
When will my friend and I receive our referral bonus?
For you and your friend to qualify for the referral bonus, your friend must not have previously signed up to Raiz.
Once they have determined if Raiz is suitable for them they should create their account, and once it has been approved, your friend must activate it by making an initial investment of $5 or more. But it is important that they read the product disclose statement (PDS), especially the risk and fee section and determine if Raiz is a suitable product for them.
Once they have made their first successful investment and it is showing in their Raiz balance, you will both receive the $5 ($10 in September) referral bonus automatically into your Raiz accounts within 5 business days.
---
Don't have the Raiz App?
Download it for free in the App store or the Webapp below:
Important Information
The information on this website is general advice only. This means it does not take into account any person's particular investment objectives, financial situation or investment needs. If you are an investor, you should consult your licensed adviser before acting on any information contained in this article to fully understand the benefits and risk associated with the Raiz product.
The information in this website is confidential. It must not be reproduced, distributed or disclosed to any other person. The information is based on assumptions or market conditions which change without notice. This will impact the accuracy of the information.
Under no circumstances is the information to be used by, or presented to, a person for the purposes of deciding about investing in Raiz.