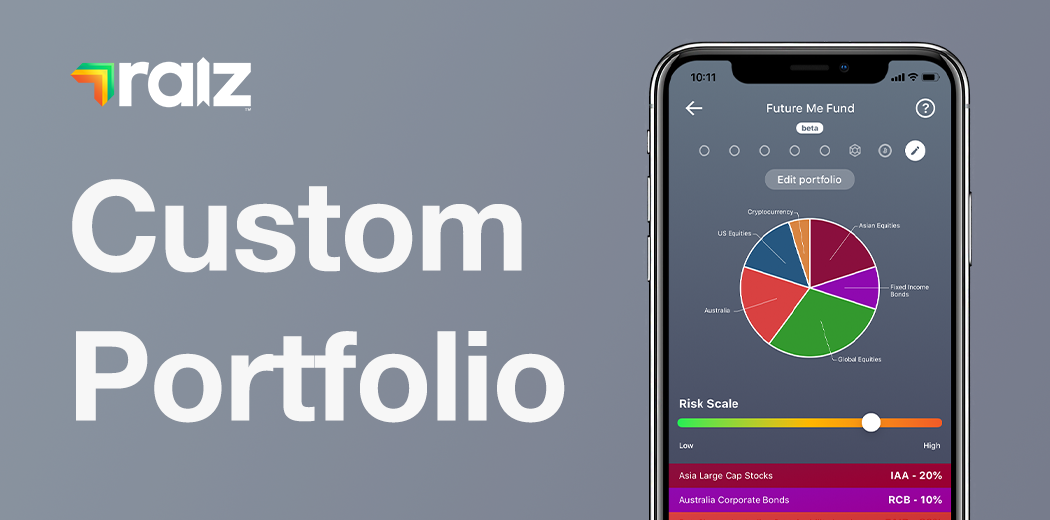 It has been a busy time at Raiz, as we help our community start actively thinking and planning for what they all want to achieve from their financial goals in 2021.
We are seeing many Raiz users grow their financial experience from investing, build their knowledge from our blogs, and take an interest in the financial markets. As such, we've had feedback from a number of Raiz users that they want to have more control over their portfolio allocations. We are excited to let you know that now you can do exactly that with our Custom Portfolio option.
What are Custom Portfolios?
Unlike our seven standard portfolios, our Custom Portfolio option allows you to build your own personalised portfolio by choosing the target weightings for up to 14 ETFs and Bitcoin.
The ETFs you can invest in are:
AAA.AU – Betashares Australian High Interest Cash
STW.AU – SPDR S+P 200
IAA.AU – iShares S+P Asia 50
IEU.AU – iShares S+P Europe 350
IAF.AU – iShares Core Composite Bond
RCB.AU – Russell Australian Select Corporate Bond
IVV.AU – iShares Core S+P 500
RARI.AU – Russell Australian Responsible Investment
ETHI.AU – BetaShares Global Sustainability Leaders
NDQ.AU – BetaShares NASDAQ 100
FAIR.AU – BetaShares Australian Sustainability Leaders
IOO.AU – iShares Global 100
VGE.AU – Vanguard FTSE Emerging Markets Shares
IXJ.AU – iShares Global Healthcare
The choice is yours
Our Custom Portfolio can give you more control over how you invest. For example, you can now build a portfolio which is more tech focused, more internationally focused, or more focused on sustainability. If you'd like to include cryptocurrency in your portfolio, you may choose to have up to a 5% holding in Bitcoin.
Because you need to choose, Custom Portfolios are not suitable for everyone. You need to read our Product Disclosure Statement to determine if it is suitable for you.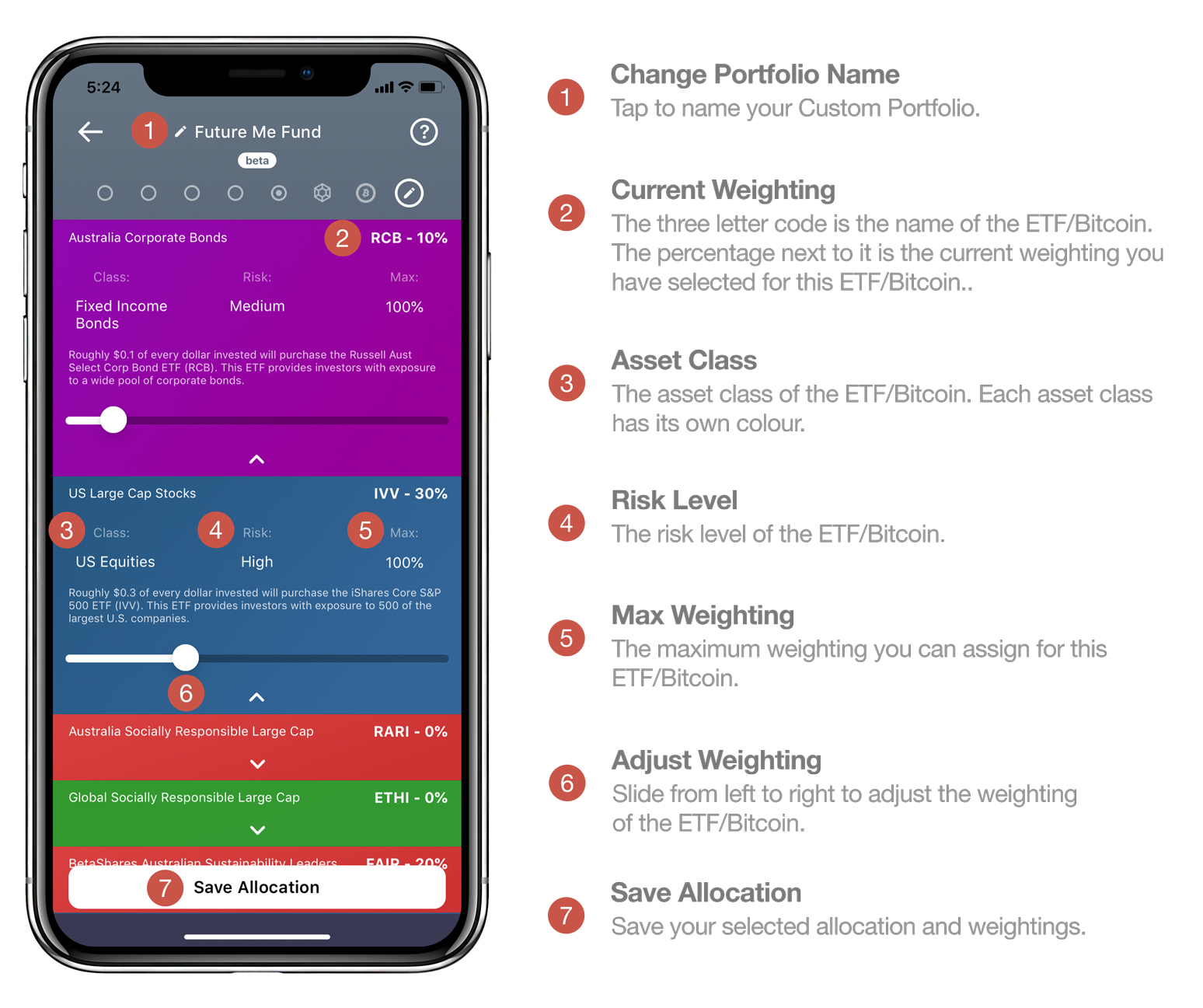 No brokerage
The Raiz platform gives you the perfect balance of flexibility without the high brokerage costs that can come with buying or changing the ETFs you want to hold.
For example, if you were to create a portfolio of 14 ETFs by purchasing them through a trading app, it could cost you hundreds of dollars in brokerage depending on who you use. If you switched the ETFs you hold or topped up your holdings, these costs would increase.
But with Raiz, you can deposit, withdraw and change as often as you like, whenever you like, and the Custom portfolio fees are just $4.50 per month for accounts less than $20k, or 0.275% p.a. for balances exceeding $20k. Not to mention that we will automatically rebalance your portfolio, keeping your holdings in line the with the target weightings you specify.
The Raiz App is not a trading tool or a stockbroker, it is about building portfolios to invest in. Please read the Product Disclosure Statement to learn more about the investment risks and rebalancing process.
Name your Custom Portfolio
Each Custom Portfolio is going to have a different allocation, a different account balance, and each user likely has different goals and aims for their investing journeys. So why should they be named the same? Custom allows you to choose a name for your portfolio that suits your approach, your style, and your personality.
How do I change my portfolio?
Switching to a Custom Portfolio (or changing the target weights for an existing Custom Portfolio) is a free and easy process.
The first time you go to the Custom screen, the default will be to have 100% of your portfolio weighted towards the AAA (cash) ETF. To customise your allocations, tap on the ETFs/Bitcoin below the pie chart, and use the sliders to select your weightings. Any target weightings you assign will automatically be taken from the default 100% AAA weighting. If your target weightings in other ETFs/Bitcoin are less than 100%, the remainder will be automatically assigned to the AAA ETF.
After you save your allocation, name your portfolio, and tap the change portfolio button, Raiz will automatically process your buy and sell requests within 1 business day.
If you have already switched to a Custom Portfolio and want to edit your existing target weightings, just tap on the 'Edit Portfolio' button on the Custom Portfolio screen in the app, and once you are done editing, tap on the 'Save Allocation' button to action the changes.
Is a Custom Portfolio right for me?
As with any financial product, we recommend you read the PDS to see if a Custom Portfolio is suitable for you.  At any point in time if you are in Custom and want to revert to one of the seven Raiz diversified portfolios, it is as simple as changing your portfolio as you normally would.
---
Don't have the Raiz App?
Download it for free in the App store or the Webapp below:
Important Information
The views of these experts are not necessarily the views of Raiz. Please consider your own financial goals and circumstances when making an investment.
The information on this website is general advice only. This means it does not take into account any person's particular investment objectives, financial situation or investment needs. If you are an investor, you should consult your licensed adviser before acting on any information contained in this article to fully understand the benefits and risk associated with the product.
A Product Disclosure Statement for Raiz Invest and/or Raiz Invest Super are available on the Raiz Invest website and App. A person must read and consider the Product Disclosure Statement in deciding whether, or not, to acquire and continue to hold interests in the product. The risks of investing in this product are fully set out in the Product Disclosure Statement and include the risks that would ordinarily apply to investing.
The information may be based on assumptions or market conditions which change without notice. This could impact the accuracy of the information.
Under no circumstances is the information to be used by, or presented to, a person for the purposes of deciding about investing in Raiz Invest or Raiz Invest Super.
Past return performance of the Raiz products should not be relied on for making a decision to invest in a Raiz product and is not a good predictor of future performance.